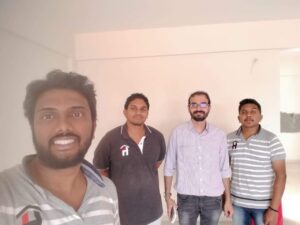 Sarjapur Main Rd., Bengaluru
Our confidence on the builder increased post Inspection!
I got to know about HomeInspeKtor thru a friend. I'm sure many of us are new to this concept of professional inspection.If you ask me, I feel every home buyer should take some professional assistance when they get their flat handed over for interiors. Our flat was located in the top most floor and there were lots of hairline cracks and couple of them were in the joints between walls and beams. We were worried about the structure because of this. After the home inspection was done, the civil engineers in their team clarified our doubts as to what qualifies to be a 'structural crack'. Their work gave us a lot of confidence since there were no 'structural cracks' in our flat. Once the inspection is done, the onus is on the buyer to push the builder to get any major issues rectified in a timely manner.HomeInspeKtor team is really friendly and they were kind enough to explain every doubt I had. In fact our confidence on the builder increased after interacting with HomeInspeKtor team.. Kudos to the team! Wishing them all the very best!!