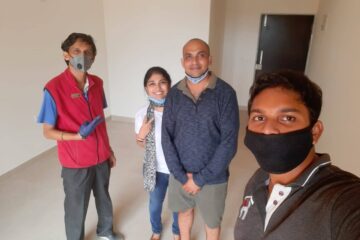 Gautam Ponnappa, Bren Imperia
Haralur Main Rd, Bengaluru
Entire inspection was carried out in an interactive and warm atmosphere, complete process in itself is an education for us!
Mr. Uday Kiran and Mr. Vivek has completed the home inspection for our request #4405. The inspection of the flat took place on 14 Sep 2020. The insight provided by the two technically and professionally competent individuals about the modalities as to how the inspection will be carried out was in itself an education for us.
Their excellent standards of inspection and use of technology was well observed by us as we were present throughout during the entire course of the flat inspection. The eye for detail was noticed as the smallest of the faults by the builders was observed and highlighted to us. The electrical system was tested in a stimulating environment which facilitated in understanding the safety precautions and measures adopted.
The inspection was carried out more so in an interactive and warm atmosphere and more so it was educative as to how the building, electrical and aesthetics part of the flat are tested. We are very satisfied and content the way in which the flat was inspected and we thank you for providing the prompt report after the completion of inspection highlighting all the observations which is helping us and the builders to rectify and own the flat as we desired. We sincerly thank Mr. Uday Kiran and Mr. Vivek for their professional acumen in conducting the inspection to the standards as desired by us. We wish both of the individuals and HomeInspeKtor best wishes and good future. We strongly recommend future house owners anywhere in the country to approach HomeInspeKtor to get the houses inspected as this is the best professional advice available.