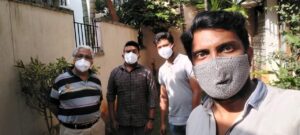 Vishal's Dad, Brigade Lakefront & Prestige Bougainvillea
Have used their service twice; the HomeInspeKtor team helped identify the punch list, using the instruments and diligent service.
First time we booked HomeInspeKtor in 2019. It was our newly constructed apartment from a reputed builder. They helped identify the punch list which we handed over to the builder and the builder did the rectification before handover. I have since recommended HomeInspeKtor to my friends as well. Second time, we again hired them recently because we wanted to evaluate a resale unit. It was old property so we wanted to be sure that there is not too much cost to be incurred after sale deed and cover it during budgeting. As expected, HomeInspeKtor sent their team with all their instruments and diligently kept on checking and explaining the minor/major points. They shared a consolidated report which we used to get estimates of the cost from market to make part of our budget. Their service is very prompt and a value add to real estate transactions. We are happy with HomeInspeKtor.